The History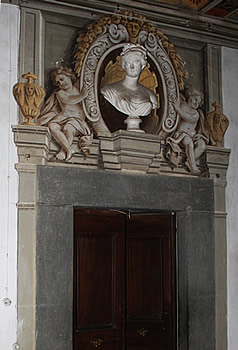 The
Villa dell'Ugo
, built at the end of the 16th and beginning of the 17th century, was a property of the Ughi family. Cited among the major Florentine lineages since the 10th century, the family also built the church of Santa Maria degli Ughi. The Villa was erected as the center of a large property destined to agricultural activities.
One of the main buildings on the estate is the Villa or hunting lodge, used as temporary housing for the lord. The various outbuildings include the farm - with the servitude and farmer's housing - and a ridable ramp that leads to the large cellars under the Villa and to the very typical "Orciaia", where olive oil used to be conserved in characteristic terracotta pots. Also a chapel is annexed to the Villa, and an underground ice house, once used to store the ice produced by amassing snow in the winter.
One of the most valuable elements of the Villa is the rich pictorial decoration of the atrium ceiling and of four halls on the ground floor. It recalls the decorated ambiances of the suburban Florentine Villas and of the county immediately adjacent to the city.
In short, the Villa dell'Ugo has many characteristics: it combines its refined paintings with the austere ambiances, a museum with an active wine dimension, a vaguely romantic aspect of the façade and garden with the feeling that you can still relieve the beauty of a remote time.